Nursery
Nursery Teacher and Foundation Stage Leader - Miss Hodgkiss
Nursery Nurse - Mrs Askwith
At Shay Lane Primary Nursery we are very proud of our children and the wonderful work they do, they are a credit to their parents and our school.
Flexible Provision
As from the end of this term our Flexible Offer will end and on our return to school in September our Nursery will revert to morning or afternoon sessions only.
Early Years Curriculum
The Foundation Stage is important in its own right; the curriculum for the Foundation Early Years Foundation Stage is designed to meet the diverse needs of all children, enabling most to achieve the Early Learning Goals, and, where appropriate, go beyond. Children aged three to five constantly encounter new experiences and seek to understand them, extending their skills, developing confidence and building on what they already know. Children deepen their understanding through playing, talking, observing, planning, questioning, experimenting, testing, repeating, reflecting, and responding to adults and to each other. Structured and well-planned play, both indoors and outdoors, is the key to learning with enjoyment and challenge. At Shay Lane we strive to provide the best possible start to your child's school life.
The Foundation Stage Curriculum is arranged in seven areas of learning:
Three prime areas
Personal social and emotional development;

Communication and language

Physical Development
And four specific areas
Literacy

Mathematics

Understanding the world

Expressive art and design
We also teach phonics using the Letters and Sounds phases.
Click here to find guidance on your child's development and how you can help them at home.
Look at our wonderful Learning
Summer 1 Term 2017
Our topic this term is 'Ground force'.
We will be learning all about growing and healthy eating. We will cover both human and animal growth. Looking at the life cycle of a caterpillar for our focus on animal growth. This will be linked to the story 'The Hungry Caterpillar'by Eric Carle.
This term the children will find some magic beans. They will plant them in order 1 - 10. The next day a magical beanstalk will appear in Nursery! The children will then find a 'Giant' set of keys, a 'Giant' pair of glasses and some golden coins but who could they belong to??? ......
We had a special delivery from Jack in Nursery today. It was an envelope containing 10 beans! The envelope gave Nursery some instructions ...To plant the beans into the soil in order. Then water them with the 'special' water and leave overnight.
The next day to all our delight ...A BEANSTALK HAD GROWN!!!
The next morning while we were sat on the carpet having our morning time Mr Dexter our school caretaker came into class. When he was locking school up last night he found a set of keys on the rug. But these were no set of ordinary keys ... these keys were GIANT! ...The Giant had been into our classroom last night and dropped his keys (or that's what Nursery thought). After hunting the classroom a little more we found some GIANT GLASSES and some GOLDEN COINS! We hoped the GIANT would come back for his belongings and decided to leave him some gifts! ...We drew pictures, wrote our names, made models and lots more! We left all our wonderful creations in a basket at the bottom of the Beanstalk.
The next day all our work had gone, along with the GIANT KEYS, the GIANT GLASSES and the GOLDEN COINS and a GIANT thank you letter had been placed in our basket thanking us all for our fantastic independent work.
Stay and Play
Thank you for everyone that attended our Stay and Play event. It brought both me and Mrs Askwith great joy to see the children so proud to show you their work and our Learning Environment.
Spring 2 Term 2017
Our topic this term is 'Let's celebrate to infinity and beyond'.
This term we are covering the topic 'Celebrations' and 'Space'. The children will be organising a 'surprise party' for Baby Bear (a character from the story 'Whatever Next' by Jill Murphy). Miss Hodgkiss will find Baby Bear so upset because he thinks everyone has forgotten about his birthday! Once Miss Hodgkiss explains to the children why they could hear Baby Bear crying they will plan, resource and hold a 'surprise' space party for Baby Bear. Each child will invite a teddy of their choice from home to attend the celebration with them.
During the topic we will be looking at celebrating, Mothering Sunday and Easter. Linking eggs to Easter we will be looking at the life cycle of a chicken.
World Book Day - 2nd March 2017
The children in Nursery dressed up as a character from their favorite story.
Easter Hat Parade
Nursery children made an Easter Bonnet at home with their 'Grown-up's' and then we went on a parade throughout the school to show off their fantastic creations. The children were so proud of their bonnets, we even went into the Key Stage 2 classrooms to show the biggest children in school.
Spring 1 Term 2017
Our topic this term is 'Arctic Winter'.
Something super exciting happened in Nursery today! ...The Postman delivered a parcel into school for Nursery ...Mrs Pollit brought the parcel down ...inside was ....
We read the story 'Penguin Post'. After reading the book the children received a parcel from the Arctic. Inside was a letter, a soft toy Penguin called Milo and his little brother, Kevin (characters from the story). The letter invited them to an Arctic party at the end of term. To attend the party each child will have to take home one of the Penguins and tell them about their family and what they like to do. They will then return the penguin the next day and tell all their friends in Nursery about all the fun they had with the Penguins. When the Arctic animals go back home at the end of term they will then report back to their family about how different life is in England to the Arctic. We will make a class book to log all the fantastic information we collect.
Thank you 'grown-ups' for all your continued support! It was lovely to see so many of you at our 'Winter Stay and Play. Mrs Askwith and I are so proud of our children and we LOVE to show off all their wonderful learning to you! We hope you like making your Hedgehogs with the children.
Thank you to Matthew's cool rocket pack invention 'Milo' experienced flying for the first time! ...After telling his mummy that penguins are the only bird that cannot fly. The family set about making Milo's dream of being able to fly a reality! ...FANTASTIC.
Party Time! ...Nursery loved the party Milo and Kevin organised for them to say thank you for looking after them so well. I think all the teddy bears that the children invited from home enjoyed it aswell!
Nursery have loved being Number Detectives this half term. Searching around the classroom for our number of the week. "We're going on a number hunt, we're going to find a number 1".
People Who Help Us, Stay & Play event
Anti-bullying week (14th - 18th November 2016)
Billy is a bit of a worrier. He worries about hats and shoes. He worries about clouds and rain and giant birds. Most of all he worries about staying at other people's houses. His mum and dad try to help, but still Billy worries ...until a visit to his grandma's shows him how to overcome his fears with the aid of his imagination - and some tiny worry dolls.
Look at the wonderful 'Worry Dolls' we made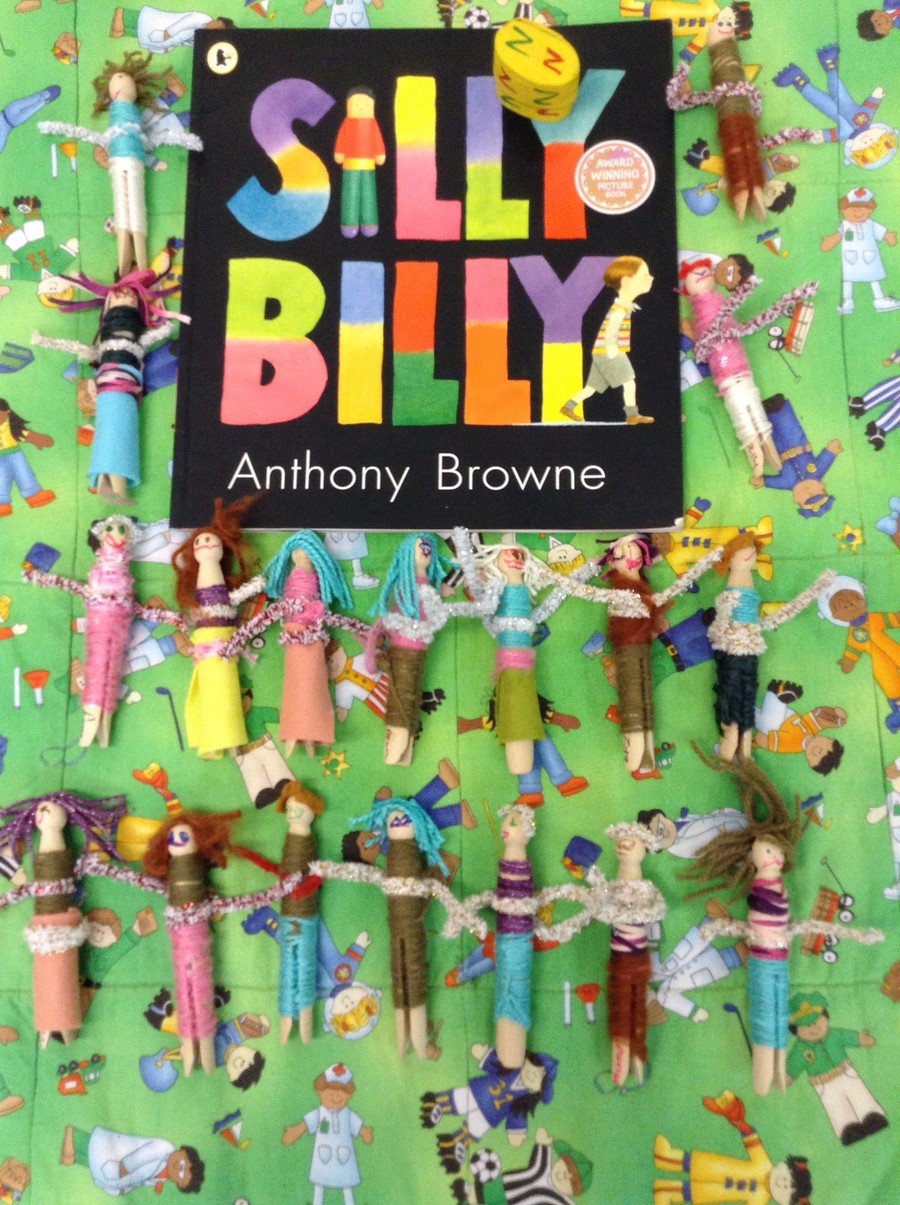 Autumn 2 Term 2016
Our topic this term is, People Who Help Us
Autumn 1 Term 2016
All our Foundation children have had a lovely first few weeks in our unit. They have settled into their routines, listened carefully to instructions and made lots of new friends.
We are delighted with our new outdoor learning area and would love you to come along and have fun with your child in this wonderful new learning environment.