A very warm welcome!
This web page is the place where we will keep you updated on our school experience, learning and other exciting developments.
At Shay Lane Primary School, our Foundation Stage Unit is made up of Nursery and Reception Class.
Our Early Years Vision is to:
Nurture
Inspire
Challenge
Excite
The Foundation Stage is important in its own right; the curriculum for the Early Years Foundation Stage is designed to meet the diverse needs of all children, enabling most to achieve the Early Learning Goals and, where appropriate, go beyond. Children aged three to five constantly encounter new experiences and seek to understand them, extending their skills, developing confidence and building on what they already know. Children deepen their understanding through playing, talking, observing, planning, questioning, experimenting, testing, repeating, reflecting, and responding to adults and to each other. Structured and well-planned play, both indoors and outdoors, is the key to learning with enjoyment and challenge. At Shay Lane we strive to provide the best possible start to your child's school life.
The Foundation Stage Curriculum is arranged in seven areas of learning:
Three prime areas
Personal social and emotional development
Communication and language
Physical Development
Four specific areas
Literacy
Mathematics
Understanding the world
Expressive art and design
We also teach phonics using the Letters and Sounds phases and the Read, Write, Inc scheme by Ruth Miskin.
Everybody Cut Footloose
Lenny (our looking, listening and learning lizard) had a Big, Big Question for us this week. He wanted to know how we could find out who has the BIGGEST feet in our class. The children took a lead role in investigating this question, spending lots of time talking to each other and trying different techniques. Some children predicted that Matthew would have the biggest feet, because he is the tallest member of our class. Over the space of a week, lots of ideas were shared and tried, with Mrs preston asking extra questions to help everybody to think about the problem from all angles. As a team, we made a mind map of our ideas and findings, as we went along. If an idea didn't work, we tried again, and again, and again! In the end, the team decided to draw around their bare feet (as their shoes may have made their feet seem bigger) and cut out a paper foot for every class member. We then lined up the feet so that we could compare them. We enjoyed working with our paper feet, moving them around and talking about them. We even used lots of mathematical language to describe our ideas and findings.
Imagine our shock, surprise and delight when we discovered that Sofija and Matthew's feet are exactly the same size AND the biggest in the class! The children then wanted to have their feet in our maths area, so Mrs White kindly laminated them and found a special box for them, so that the children could continue investigating and comparing. We are Massive Maths Masters!
Road safety
This week, we received a very special delivery in Foundation Stage. A green box was left for us with a very important message inside. We read a story called Teddy Takes a Tumble. It was all about a boy called Billy and his best friend, teddy. They did everything together and went everywhere with each other. One day, on the way to Grandma's, a cat ran out in front of their car. Unfortunately, Teddy did not have his seat belt on and when mum stopped the car quickly, teddy was hurt. At the end of the story, Teddy was ok and Billy remembered to ALWAYS fasten his seatbelt.
Foundation Stage had a wonderful discussion about road safety and how wearing your seatbelt keeps you safe. We even listened to some songs and stories about road safety, and promised to be safe, all of the time.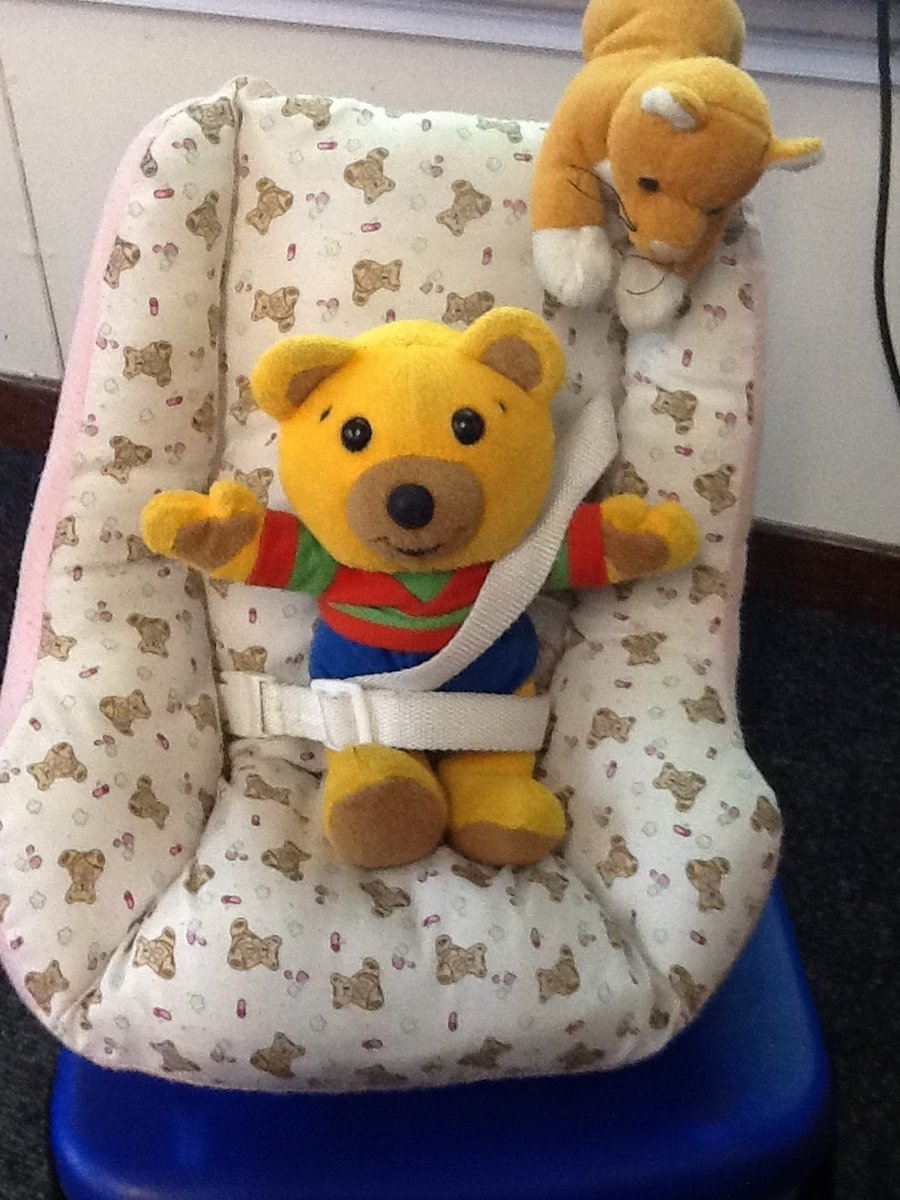 We Can Hula!
During our discussion about the school value of determination, Mrs Preston shared her story about being determined to learn a particular trick (called The Vortex) on her hula hoop. The children quickly jumped on board with encouragement and cries of, "Don't give up!"
Eventually, Mrs Preston nailed the trick. Amazing! Everybody was then eager to have a go at their own hula tricks, and we spent a lovely afternoon, trying our best and being determined to get it right.
Following all of our work on determination, the children did a class assembly, in front of the whole school, and spoke about the things that they are determined to do. They also made Mrs P show her trick to the whole school. Mr Wright unexpectedly dropped in to the assembly (he had clearly heard that it was exciting) and he even had a turn with the hoop!
Christmas Party Day!
The Christmas season is always lots of fun in school! Today, we have been full of joy and feeling excited about our Foundation Stage Christmas Party. Our party day started with a festive fashion parade, where we all showed off our party clothes. There was lots of merriment, as we realised that lots of us were wearing matching outfits!
After a special visit from Mary and Joseph (who were en route to Bethlehem) we went into the hall for dancing, singing, games and special party food. There was plenty of Christmas cheer to go round and a very merry time was had by all.
Mary and Joseph's Journey
What a special day we have had! Foundation Stage were privileged to be visited by Mary, Joseph and their donkey, on the way to Bethlehem.
We retold the Christmas story and added songs from our own school nativity play. After that, we took Mary and Joseph to our Christmas party. They enjoyed sitting under the tree and watching our festive celebrations.
After the party, we wished them a safe onward journey to Bethlehem.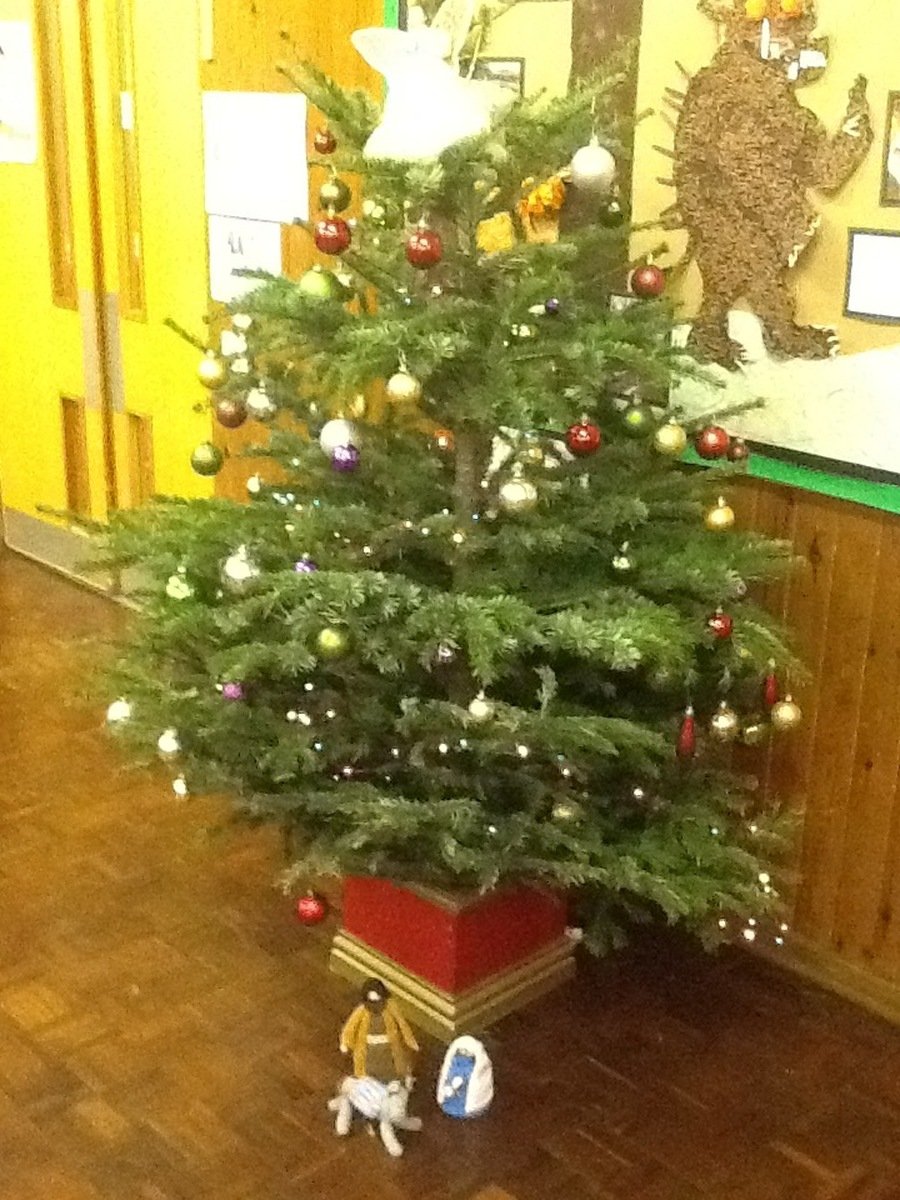 Women's Vote
In respect of the 100 year anniversary of the vote for women, Foundation Stage got together to talk about what makes us special. We decided that everybody is unique and that this is a good thing. We then discussed equality and how it is important that we are all different but all equal. The children couldn't believe that boys and girls have not always been equal, like we are today. In celebration of our wonderful world we decorated biscuits in the suffragette colours
Children in Need!
What a fantastic fundraising day we have had! It all began with using the computer to research the reasons behind this special day. Foundation Team found out that Children in Need started 38 years ago and since then has raised millions and millions of pounds to help those not as fortunate as us.
We made a class mindmap to record all of the things that we thought children might need help with, for example, somewhere to help them if they are poorly, clothes, food and clean water.
We learned a totally awesome Children in Need dance and had a fantastic time using our creative craft skills to make our own Pudsey ears. Thank you for all your donations. We have really enjoyed supporting Children in Need 2018.
Set sail on the good ship friendship!
This week has been anti-bullying week. We attended a special assembly, where we learned more about this important issue.
Back in class we worked with our new friend, Lenny the Looking and Listening Lizard, to explore the idea of how to be a good friend. First of all, we talked to each other about friendship and how to be a good friend. Then we carefully passed Lenny around and told him our ideas. Mrs Preston recorded our thoughts on a whole class mind map, which we kept referring to during the week, to make sure that we were all being good friends.
In our school, we say no to bullying and yes to friendship.
DIWALI
As part of our topic on Fantastic Festivals, we have been learning all about the Hindu festival of Diwali. Foundation Stage teamed up and used technology to research facts. These are some that we found:
Diwali celebrates new beginnings;

People call it The Festival of Light and make special diva lamps;

There is a story about Rama and Sita, where diva lamps lit their way home;

Hindus eat special food and wear special clothes;

There might be fireworks to celebrate this special time.
One of our favourite facts was that during Diwali, people often do special dances. We learned a dance all about the five days of Diwali and how it is celebrated. After this, we went into the hall where we performed the dance and even practised some freestyle Diwali dance moves! Lots of children were confident enough to demonstrate their dances to the rest of Foundation Stage.
Veggies Assemble!
Today, we did our first ever class assembly, in front of the whole school. We just so happened to be dressed as zombies, witches and vampires (it was also our Halloween disco day) but our show was all about vegetables, Harvest and Supertato.
We started by singing our special song about a Big, Red Combined Harvester. The audience were still applauding our fabulous singing as we launched into showing our observational paintings of vegetables. As if that wasn't enough, we delighted them further with our team rendition of the Supertato story. Even the older children joined in with all the sound effects! What a super chance to share our work with the rest of Shay lane.
Halloween Disco!
Foundation Stage had a spoooktacular Halloween Disco Day. We arrived at school in our fang-tastic costumes and started the day with a fashion parade. We read a spoooooky story and then got our dancing shoes on ready for the party. In the hall, there was singing, dancing, sliding on knees and party food! A big thank you to the PTFA for providing snacks and prizes. Congratulations to Alfie who won the scariest outfit in Foundation Stage and Eve who scooped the award of cutest costume.
Smashing Pumpkins
After saving The Number Gnome's winter squash collection from The Evil Pea, Finley and Tommy noticed that some of the vegetables were cracked. They really wanted to see inside, and talked about what they thought it would look like. Tommy thought it would be like a lemon, whereas Finley thought it would have pips inside. I challenged them to find a safe, effective and scientific way to get into the mysterious squashes. Before long, the boys had assembled a whole team, experimenting with dropping the vegetables from different heights and hitting them on different surfaces. When we finally cracked them and got inside, I am sure that people in Scarborough heard the cheer! We then had lots of fun, using our senses to explore these wonderful vegetables even more closely.
Defeating The Evil Pea
In Reception Class, we are very keen on vegetables and we have been really enjoying stories about Supertato and his arch nemesis, The Evil Pea.
Early one Autumn morning, Charlie noticed that The Number Gnome was making a fuss. Now, he often wears his fussy beard but we hadn't even finished the register so we knew it must be something serious. Imagine our shock (and horror) when we realised that The Number Gnome's collection of winter squashes had mysteriously disappeared. All that was left behind was a note and a clipboard. We soon worked out that this was the doing of our arch nemesis… THE EVIL PEA!
The cheeky green guy had taken the vegetables hostage, hiding them in the woodland area. He challenged us to find every single one, and even said that we would never be able to!
We nominated James as the Clipboard Master and set off on our woodland odyssey, determined to show The Evil Pea a thing or two! We used our super sight to find the squashes, and our super strength to carry them. We used our tremendous teamwork skills to tick each one off on the clipboard and check our findings.
Thanks, Benny. We think you are one in a melon!
Benny brought in a watermelon to add to our interactive fruit and veg display. After investigating, drawing and painting the watermelon, Benny suggested that we eat it. We invited nursery along for the feast and couldn't wait to see inside this special treat. We got stuck into the melon, spilling juice all over our chins, our jumpers, the carpet and each other! Everybody was really excited and said a big Thank You to Benny for sharing the marvellous melon.
Taste the Difference
During our topic of Getting to know you (getting to know all about you) we investigated our senses. A letter went home, asking families to donate interesting vegetables for our interactive veggie-table display. We had lots of fun looking at, touching, smelling and tasting the vegetables. We also discussed the fact that we don't always eat a whole vegetable, and we tasted things that include vegetables such as garlic bread and coleslaw. We even rated the taste in a special challenge activity. A big thank you to all the families who donated something tasty or interesting.
Massive Maths
In Reception Class, we have a friend called The Number Gnome. He just loves numbers and can be a little bit sneaky and cheeky, setting challenges for us to do and making a fuss about various things.
This week, The Number Gnome has gone bonkers for conkers, after lots of children brought them into school! Today, he was making a fuss about his number cards because they had been muddled up during busy time and he needed to check that they were all there. We worked as a whole team to order the numbers and check, then we broke off into smaller teams to match quantities of conkers to the numbers. We had a fabulous time and even noticed that The Number Gnome was wearing his happy beard by the end of the challenge!
Outdoor Learning
Anything we can do inside, we can also do outside! The sunny autumn weather has given us plenty of opportunities to get stuck into some outdoor learning, including some practical maths and problem solving challenges.
Getting to Know You (getting to know all about you)
What a wonderful start to the school year! We have had lots of fun getting to know each other and settling into our new classrooms. We are having a great time exploring our environment and accessing the different areas. In Foundation Stage we are singers, dancers, actors, builders, artists, explorers and so many other things.
Insert slideshow here