Celtic Roundhouses
As part of our topic on life in Britain before and during the Roman invasion, we have been looking at how the people of Britain at the time lived. We learned about the Celts and their homes, which were built from natural resources which were readily available from the land and forests of Bronze Age Britain. Using this knowledge, we went out into our outdoor environment to search for similar building materials with which to build our own model Roundhouses. We used sticks, clay, rope and straw to construct our dwellings. Here are some pictures of our models as the building work progressed...
Measuring Perimeter
In the run-up to Christmas, Year 4 have been learning about perimeter and have been practising using tape measures, rulers and meter sticks to measure objects around the classroom. The children have then added together the lengths of all the sides of a shape to find the perimeter. The class has also been solving reasoning problems, such as calculating missing lengths and designing their own Jurassic Park.
The Greenhouse Effect...
This half term, we will be learning about climate, weather, natural disasters and how we effect the climate. In Science, we conducted an investigation into how the Greenhouse Effect traps sunlight within the Earth's atmosphere and contributes to global warming. To do this, we left two thermometers outside in the Sun all day. One thermometer was placed within a glass vase to simulate the effect that carbon emissions have on our atmosphere and how these gases trap the heat from the Sun.
We found that the temperature inside the glass increased at a higher rate during the day and inside the glass was much hotter than outside, proving that the sunlight has been trapped. A similar thing is happening to the Earth right now. We have been discussing, as a class, how we can combat climate change to ensure that we do a better job of looking after the planet in the future!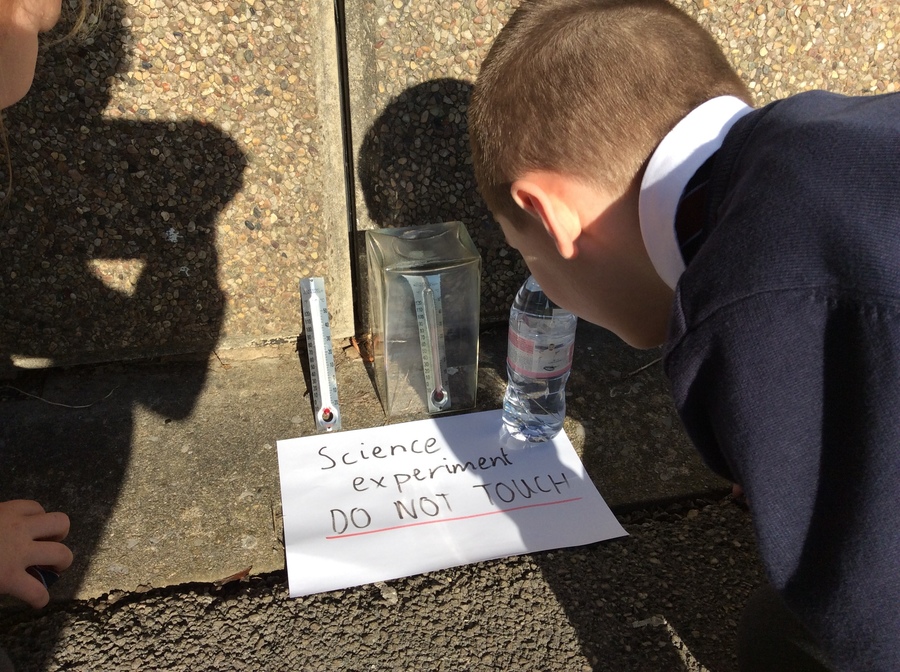 In our Maths lessons we have been looking at place value and how to multiply and divide mentally. We have been using a 'Decimal Cliff' to illustrate how numbers can increase or decrease in value when multiplied or divided by 10, 100 and 1000. Below are some photos of our decimal cliff and how we use it.
In our Art lessons, we completed some Paul Klee style piece of artwork. We used cut out shapes to put together our own versions of 'Castle and Sun'.
Homework
Homework and spellings will be given out every Friday, to be returned/learned the following Friday. Children are also asked to login (if they have internet connections at home) to Bug Club and attempt some of the reading comprehension tasks.