Welcome To Our Year 5 Class Page!
Hello Year 5
This is our class page. We will not only share information, but our learning journey too! Keep a look out for your super learning! If there is anything you would like to see, please let Miss Stones know.
Just some information for the year ahead:
Homework: Collected and handed out on Fridays
Homework will include a short English task and an allocated task on Mathletics. In our time table, we have a dedicated slot to go through how to complete it, answer any questions and provide feedback. If anyone struggles, all adults in Year 5 are willing help however it will still need to be completed at home. For those who may have trouble accessing Mathletics, Miss Stones will spend Monday lunchtime in the ICT suite providing an opportunity for children to use the computers.
The children are asked to collect three signatures from adults at home to show they have spent some time reading. They can read anything they wish and reading sessions at home can as little as five minutes. Children who read more than 3 times a week will receive Class Dojo points.
We will also have a spelling quiz on Friday. Spellings will be explained alongside other homework and will support current learning. We request that Spelling books are handed in so we can stick the next list in for you. Anyone who forgets will be given a slip and those who are unfortunately absent will have one with their name on for their return that they need to collect.
PE: Tuesdays and Thursdays
Even though our dedicated PE time will be on Thursdays, there may be other opportunities for Year 5 to take advantage of. It is for this reason that the school requests PE kits are in school throughout the week and laundered at weekends.
Magna
There is never enough time at Magna! We started by participating in a workshop categorising and identifying rocks and then erupting our own volcanoes. As geologists, we enjoyed sticking our straws into the sides of our volcanoes and analysing the different layers. After our workshop, we broke into smaller groups to explore the various interactive activities within each area. Each group came back with different stories including watching "The Big Melt", experiencing hurricanes or returning rather wet! Other children enjoyed blowing up limestone or controlling a large digger.
World Book Day
What an exciting day it has been in Year 5! We have been developing our spooky writing using Harry Potter, improved our understanding of estimation during a potion lesson and discovered inches when racing rats. Here are a few photos from our super day:
Year 5 Explores Flower Power
As part of science, we are going to explore how plants grow. We are starting our investigation by looking at all the different parts of a flower and then planting them. We will label our pots in order to find out which parts will grow. Here are some photos of our group work:
Year 5 Christmas Requests!
Before we broke up, we all decided on our holiday book. The vote decided that our optional Christmas read would be The Midnight Gang by David Walliams. I know many of you had included this on your list to Santa, and I'm sure he would have delivered it. As promised, I have read the book and it is brilliant. If you enjoy adventure and friendships; you will really enjoy the story. All homework is optional in the holidays, but for those that enjoy it, please click below to download your copy of the quiz I have made for you.
Year 5 As Scary Things!
A big thank you for all the contributions made, 50p may not be enough be buy a coffee on its own, however collectively they will make a great difference to learning. Thank you!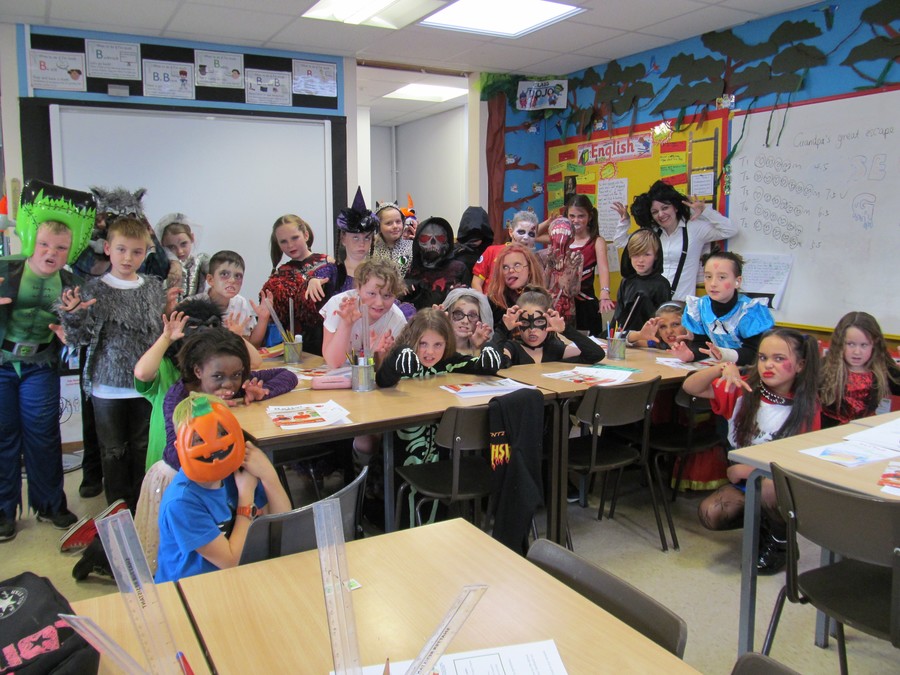 Year 5 As Shakespeare Actors...
In order to get into our comedy and drama topic, we have acted out Midsummer's Night Dream. We have loved the scandal of this play and found Bottom hilarious! Some of us have gone the extra mile with our writing and even used language that would have been appropriate during those Tudor times. Alas, our topic has now ended, let's hope we find exploring space as much fun!
Year 5 As Historians...
This week we have been uncovering some Tudor artefacts and deducting what people were like during that period.
Happy Summer Year 5!
Here are the questions for our guided reading session. A super scary book that I am sure you will all enjoy! All homework is optional during the holidays this summer, however anyone who completes it will get class dojo points. If you are unable to get a copy, don't worry, you can borrow the teacher's copy when you are back.
Click on the link below!
Long Term Planning - subject to slight changes.