A very warm welcome!
This web page is the place where we will keep you updated on our school experience, learning and other exciting developments.
At Shay Lane Primary School, our Foundation Stage Unit is made up of Nursery and Reception Class.
Our Early Years Vision is to:
Nurture
Inspire
Challenge
Excite
The Foundation Stage is important in its own right; the curriculum for the Early Years Foundation Stage is designed to meet the diverse needs of all children, enabling most to achieve the Early Learning Goals and, where appropriate, go beyond. Children aged three to five constantly encounter new experiences and seek to understand them, extending their skills, developing confidence and building on what they already know. Children deepen their understanding through playing, talking, observing, planning, questioning, experimenting, testing, repeating, reflecting, and responding to adults and to each other. Structured and well-planned play, both indoors and outdoors, is the key to learning with enjoyment and challenge. At Shay Lane we strive to provide the best possible start to your child's school life.
The Foundation Stage Curriculum is arranged in seven areas of learning:
Three prime areas
Personal social and emotional development
Communication and language
Physical Development
Four specific areas
Literacy
Mathematics
Understanding the world
Expressive art and design
We also teach phonics using the Letters and Sounds phases and the Read, Write, Inc scheme by Ruth Miskin.
Norman's Doughnut Decorations
Nursery Team have been working extremely hard on their book, Norman the Slug with the Silly Shell. We have been creating repeating patterns in paint and sequencing the story using pictures. As a special treat we decided to decorate doughnuts, just like Norman's shell. They were delicious!
Slithery, Slippery Slime!
We are enjoying our book, Norman the Slug with the Silly Shell ssooooo much that we decided to make slime! In the story, Norman uses slime to escape from the claws of a bird. We followed instructions carefully to create our own slime. It was a bit messy but we loved it!
Some slippery, slimy visitors!
Nursery Team have be reading Norman The Slug With The Silly Shell by Sue Hendra. We have had a great time drawing and painting snails and using words from the story. As a special treat, Mrs Bury brought in her African Snails from home. She told us that they like to eat cucumber, courgette and pepper but do not like watermelon! Mrs bury even let us touch them gently. We used words like slimy, slow and slithery to describe them.
A super start to Nursery
Wow! What a wonderful first couple of weeks we are having! The children are settling in really well and getting used to the new rules and routines. We are having so much fun in the different areas of provision and are really enjoying our singing and story times. Well done, Nursery Team. We are super proud of you x
September 2019
Welcome to a new school year. We are really looking forward to getting to know our new starters and welcoming back our older nursery children.
Our web page is a great place to see what your children have been up to during their very busy days at school. Please find below some of the wonderful activities that we enjoyed in the last academic year and watch this space for more exciting developments!
We love our ducklings
We took them swimming! They splashed us as they learned to swim. It was so much fun!
A Duckling Update
All 6 of our eggs have hatched! Over last week, we have watched as the 6 ducklings hatched from their eggs. It was unbelievably exiting! We have listened carefully to their little quacks and watched as they have got stronger. Today, we decided that they were strong enough to come out of the cage. We sat in a circle and watched as the ducklings ran and played in our circle. They kept coming up to us and giving us a gentle peck. It really made us smile.
A visit from Elsa the Chocolate Labrador
What an exciting morning Nursery Team have had! Mrs Allen (Mrs Norbury's mum) brought in the family dog, Elsa. Mrs Allen told us all about what she has to do to care for Elsa. She showed us how to brush Elsa's teeth using a special Denta Stick; brush her fur with a special dog brush and eat her breakfast out a special bowl (she even showed us the special poo bags!).
Mrs Allen then showed us some tricks that Elsa could do. She could sit, lay down, stay and catch a ball. We then got into a circle and all had a turn at stroking Elsa. We were very quiet and gentle so we didn't scare her. Elsa really enjoyed this and kept smiling and wagging her tail! Thank you Mrs Allen for a fantastic morning xx
Rain, Rain Go Away!
Where's the summer?!
Even after all our singing about the sunshine, it's still raining! So Nursery Team decided to go on a Rain Walk. We discussed what we could see and how it felt. We also described the changes that the rain had made to our outside area. There were lots of puddles and mud but the rain had really helped the plants to grow.
The Very Hungry Caterpillar
Nursery Team have had a super time working on our story, The Very Hungry Caterpillar. We started with some maths work and made our very own caterpillars using paint and careful counting. As an extra challenge, we even found one more and one less. After that we created pictures of what the caterpillar ate. We made meaningful marks and wrote some key words. We have also enjoyed learning about the life-cycle of a butterfly and singing songs all about it. But one of our favourite things that we did was tasting the food that the caterpillar ate (don't worry, we didn't eat the nice, green leaf!)
A visit from Luna the African Pygmy Hedgehog
This morning, Nursery have been extremely lucky to meet a real hedgehog! Luna is not like the hedgehogs that we might see in our gardens, she is white and light brown. Luna is a pet and can only live indoors. She sleeps during the day and is awake at night. Luna is 9 months old and likes to eat worms! Although Luna has spikes but they were not sharp. She has a very soft tummy and a big nose! We really enjoyed learning all about Luna and delicately touching her back. Thank you, Nic for bringing her in to meet us.
PE with Mr Biltcliffe
Nursery team are really getting stuck into their PE sessions. We are learning to move in lots of different ways and playing new games with our friends. We have also been discussing what happens to our bodies when we exercise.
Who's that trip trapping over MY bridge?!
We have had a fantastic time creating the trolls that we designed. We've used describing words to talk about our troll and careful counting skills to add the different features. It's been so much fun!
A Musical Investigation
Nursery Team have had a fantastic time experimenting with musical sounds. We were given the challenge to add sounds to the story, The Three Billy Goats Gruff, but we did not know which sounds to add. To begin our investigation, we went into the hall to play different musical instruments, for example, chime bars, triangles and tambourines. We discussed the different sounds that they made and the correct way to play then. After this, we had to choose which instrument we wanted to use in the story. Some of us thought that a drum would be good for the troll. Some of us thought that claves would be a good sound for Big Gruff. It was very interesting to listen to other people's ideas.
After all our investigating was done, we rehearsed adding the sounds to our story. It sounded so amazing that we decided to perform it for Reception Team! Mrs Melgram even came in to watch!
Our Woodland Area
The PTFA have worked very hard to improve our woodland area. Nursery team have been enjoying exploring the new parts and discussing the changes that we can see. One of our favourite parts was the den and seating around the pear tree. We were shocked to see the changes to the daffodils but understand that they will die and then grow again. Thank you to the PTFA for making this area so exciting for us.
Cacao Tasting
A huge thank you to our wonderful Harry, who brought in a selection of cacao products for us to try. We were very excited to find out what the cacao tastes like before it is turned into chocolate. Some of us really liked the taste of cacao. Some of us really didn't!
We had a wonderful time raising money for Red Nose Day 2019
Science Week – Chocolate Investigation: Part Two
We are having a fantastic science week so far! As part of our investigations, we have been experimenting with changing materials. We have been using special scientific words like solid, liquid and melt.
Building on our chocolately work, we had a tricky question to answer. How could we get an Easter egg onto a banana? We came up with lots of fantastic ideas like using glue or sellotape to stick them together. After sharing our thoughts we decided that the best way would be to melt the chocolate onto the banana. We used a microwave to heat the chocolate and this changed it from a solid into a liquid. We had a hilarious and very messy time getting the runny chocolate onto the banana.
We even found out that when chocolate cools down it turns back into a solid!
From Bean to Bar
As part of Science Week, Foundation Stage have been learning about different foods that come from the jungle/rainforest. Imagine the children's surprise when they learned that chocolate is a product of the jungle! We discussed the fact that the chocolate doesn't just grow on a tree, all wrapped up in a tasty bar. We watched a special video that showed us how cacao beans are transformed into delicious, smooth chocolate. The machines at the chocolate factory crush, mix, melt and mould the chocolate, before wrapping it up and sending it out to supermarkets across the country. Did you know that white chocolate is actually made with cocoa butter?
As if that wasn't exciting enough, we then tasted milk and white chocolate. The children enjoyed talking about the flavour and texture of the different chocolate, before deciding upon their favourite.
World Book Day
Nursery had a fantastic time celebrating World Book day. We came to school dressed as one of our favourite story characters and completed some exciting book related activities. As part our special day, we went into the hall for a big show and tell. We explained a little bit about our characters and some of us even did a bit of acting!
As an extra celebration, we invited in all of our grown-ups for a Treasure Book Look. We shared the amazing work that we have been doing and asked our grown-ups if they would like to stay and play. Thank you to all of our wonderful families for their continued support. We are so proud of our amazing Nursery Team.
Spring is here!
This morning, Charlie brought us in some beautiful daffodils from her garden. We talked about what flowers need to grow and decided that we wanted to find more daffodils, but where would we look? Nursery Team thought that there would be flowers in the woodland area so that is where we went. Not only did we find daffodils, we also found daisies and crocuses. We are excited that Spring time is here!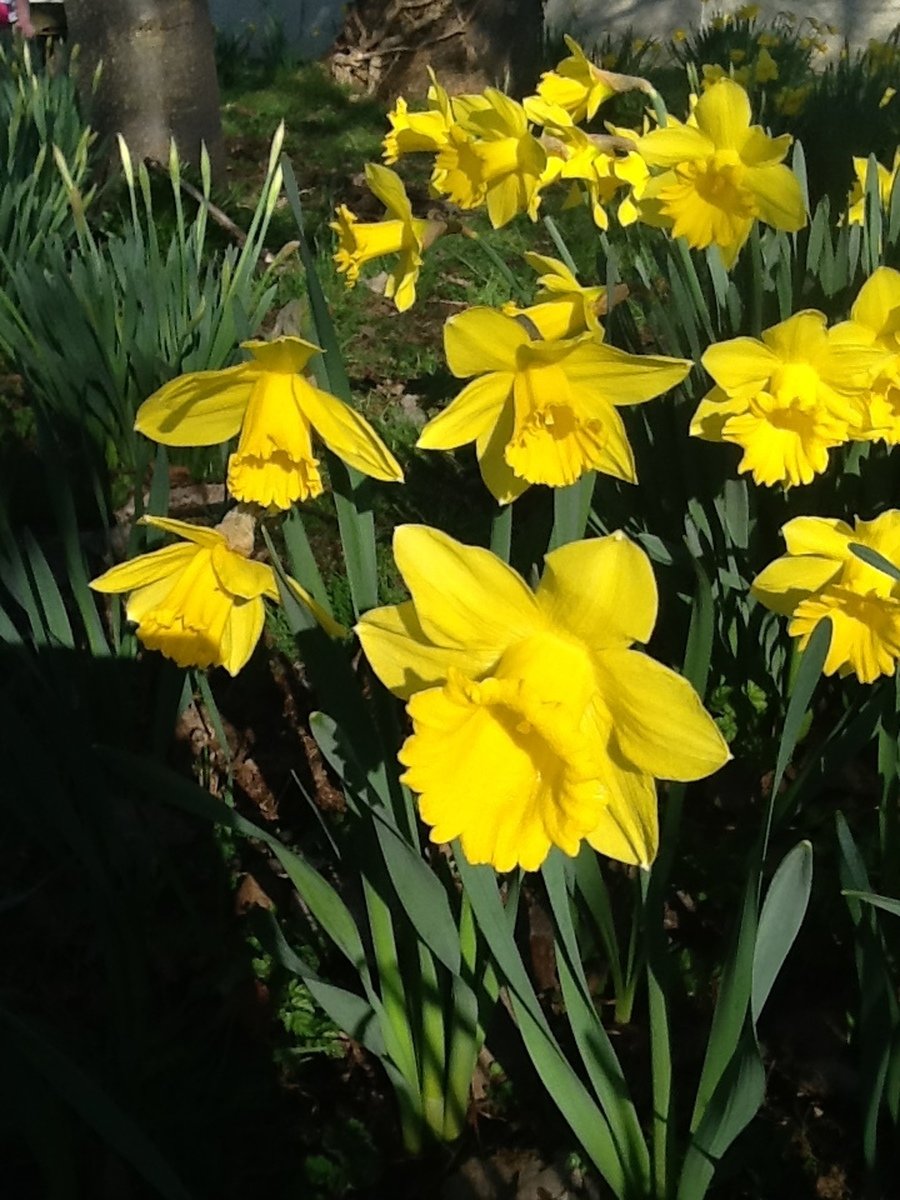 A Jungle Description
Today, we turned into mini teachers! Miss Martin gave us some different pictures of a jungle. We had to work with our friends to use words to describe a jungle setting. We had to think about what we might see, hear and feel. After we had shared our ideas in a small team, we then got to sit on the teacher chair and tell the rest of the class. We came up with some amazing ways to describe a jungle setting. Some of the jungle descriptions sounded beautiful; others sounded a little scary! Then we made a postcard to send to our family all the way from the jungle.
Chinese New Year!
What a wonderful time Foundation stage have had celebrating this special festival. We started our week by learning about Chinese culture and the reasons for this celebration. We could not believe that China is almost on the other side of the world! We used technology to research how Chinese New Year is celebrated. Some of the facts that we found out were: people clean the house to welcome in the New Year; people wear fancy new clothes; red is thought to be a lucky colour so people often wear red and receive money in a red envelope; many people attend a special parade where there are dragons, fireworks, dancing and special food. The children decided that they would like their own Chinese New Year Parade so we made a list of things to prepare. It was so much fun, making our own Chinese dragons and the authentic food was delicious! Check out some pictures of our Chinese dancing!
A Jungle Adventure
As part of our jungle topic, we received a letter from one of the characters in our story. Mr Butterfly gave us a very special challenge. We needed to go into our woodland area to find some monkey facts that he had lost. When we got back inside (to the warmth) we shared the facts that we had found and any others that we knew. It made us feel a bit sad that there are lots of animals in the jungle that like to eat monkeys for their dinner, for example, crocodiles, tigers and even snakes! After this, Nursery Team decided that they would like to share their learning with the Reception children and plan their own jungle adventure. It was all very exciting!
Magical Music
Nursery team have really been enjoying our music sessions. We have been learning the names of different instruments and how to play them correctly. We have been listening carefully to the different sounds that they make and then we have been playing them louder and quieter. As an extra challenge, we have also been trying to play to the pulse of the songs that we sing.
Road safety
This week, we received a very special delivery in Foundation Stage. A green box was left for us with a very important message inside. We read a story called Teddy Takes a Tumble. It was all about a boy called Billy and his best friend, teddy. They did everything together and went everywhere with each other. One day, on the way to Grandma's, a cat ran out in front of their car. Unfortunately, Teddy did not have his seat belt on and when mum stopped the car quickly, teddy was hurt. At the end of the story, Teddy was ok and Billy remembered to ALWAYS fasten his seatbelt.
Foundation Stage had a wonderful discussion about road safety and how wearing your seatbelt keeps you safe. We even listened to some songs and stories about road safety, and promised to be safe, all of the time.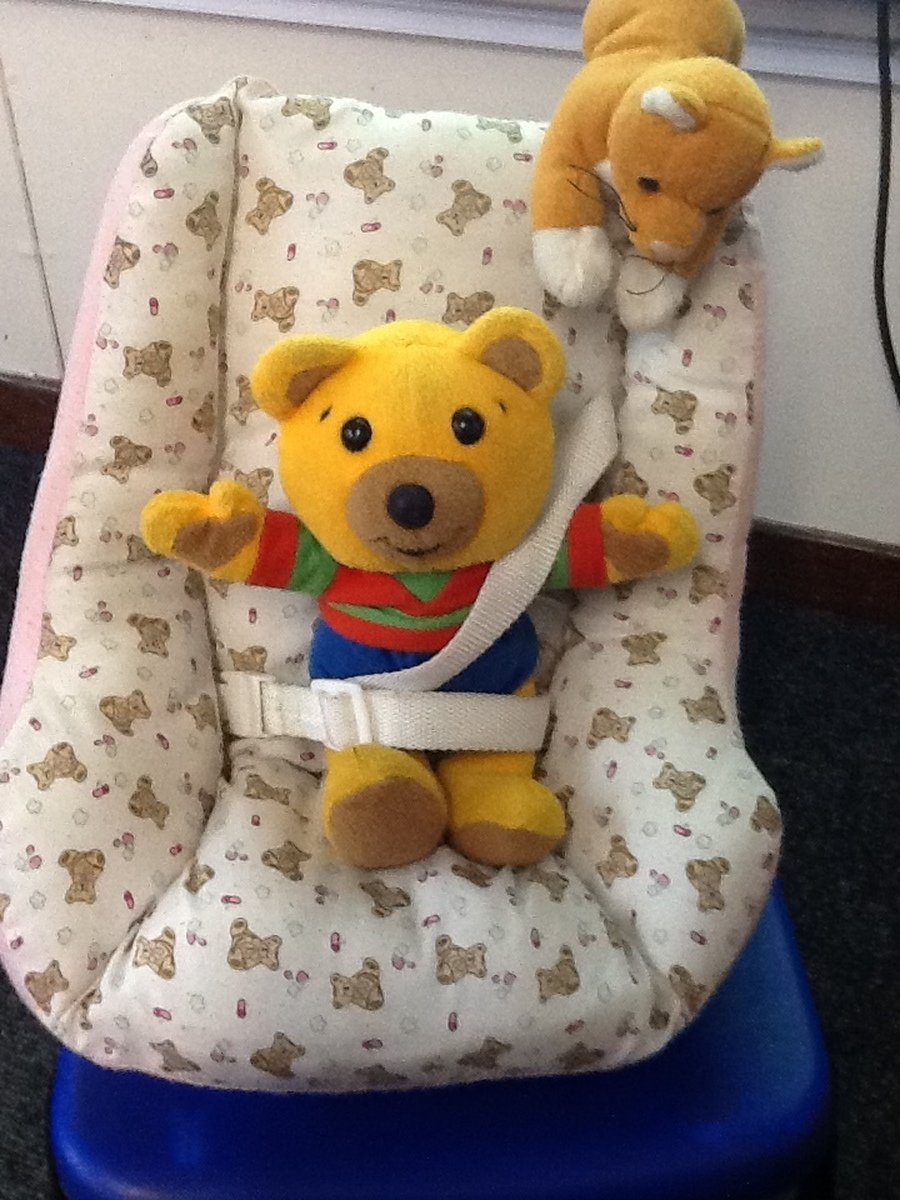 An Icy Investigation
When we were eating our fruit and milk, we got talking about the weather and how it was cold and icy outside. Some of the Nursery Team wanted to find out how ice was made. Did it come from a wizard? Was it Princess Elsa? Was it the cold weather that made ice? We decided there was only one thing to do – investigate!
We filled up some cups with water from the tap. In some cups we added colour and in some we added glitter. The children decided that we needed to put the cups outside, overnight, to see if the water turned into ice.
The next day we investigated what had happened to the water. As if by magic, it had turned into ice. After lots of fantastic ideas, we found out that it was the cold weather that froze the water and turned it into ice. We then used our warm hands to melt the ice and turn it back to water. It was an exciting, icy investigation!