Welcome To Our Year 5 Class Page!
Hello Year 5
This is our class page. We will not only share information, but our learning journey too! Keep a look out for your super learning! If there is anything you would like to see, please let Miss Stones know.
Just some information for the year ahead:
Homework: Collected and handed out on Fridays Spellings: Checked, tested and handed out on Tuesdays
Homework will include a short English task and an allocated task on Mathletics. In our time table, we have a dedicated slot to go through how to complete it, answer any questions and provide feedback. If anyone struggles, all adults in Year 5 are willing help however it will still need to be completed at home. For those who may have trouble accessing Mathletics, Miss Stones will spend Monday lunchtime in the ICT suite providing an opportunity for children to use the computers.
The children are asked to collect three signatures from adults at home to show they have spent some time reading. They can read anything they wish and reading sessions at home can be as little as five minutes. Children who read more than 3 times a week will receive Class Dojo points.
We will also have a spelling quiz on Mondays. Spellings will be explained and handed out on the same day. We request that spelling books are handed in so we can stick the next list in for you. Anyone who forgets will be given a slip and those who are unfortunately absent will have one with their name on for their return that they need to collect.
PE: Tuesdays and Fridays
Even though our dedicated PE time will be on Tuesday, there may be other opportunities for Year 5 to take advantage of. It is for this reason that the school requests PE kits are in school throughout the week and laundered at weekends.
Pontefract Castle
Pontefract Castle was lots of fun! During the morning, we were dazzled by a highly dramatic performance that we had the chance to participate in. It was all about the history of the castle and in particular the death (a suspected murder) of Richard II. In the afternoon, we explored the castle and found the locations we learnt about during the morning. Having been completely inspired, we split into groups and developed our own dramatic performances and chose locations of the castle to perform them in.
As Scientists
We have been exploring forces. Together we designed an experiment that would show us the best design of boat. Having been given equal amounts of plasticine, we crafted our designs. Some were incredibly well thought out. One design had a built in air pocket designed to lift the boat in the water. Unfortunately, great ideas did not work out as we all expected. We tested our boats by floating them in the water and then filling them with weights to see how much they could hold. We learnt that the surface area is the most important factor when completing this test. Miss Stones and Mrs Bolton, quickly created their boat with the biggest surface area for us to test this observation; it held over 120 dice!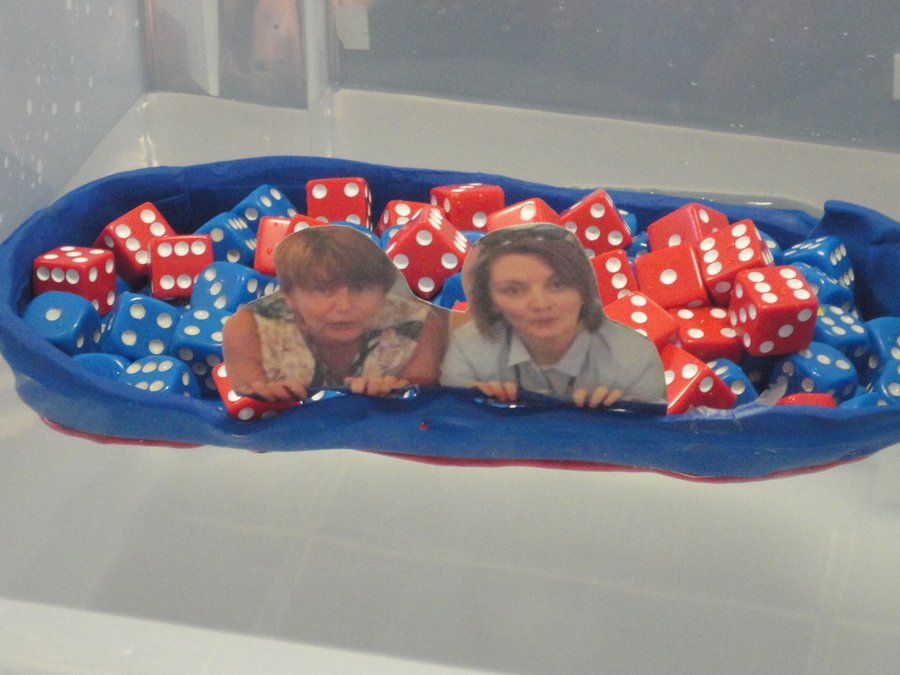 As Mathematicians
We have decided to make learning about fractions a little bit more fun. We have been playing Fraction Ping Pong! Each coloured beaker is worth a fraction. When you throw your ping pong balls, you collect the fractions and then add them together to work out your score - the highest score winning the game. We have had to use our previous learning as the fractions have different denominators and therefore require converting.
As Fitness Instructors
Every morning, we start our day with an exciting routine to lift our heart rates. Even though we enjoy many different songs, our class favourite is Rasputin by Boney M. We hope you enjoy our clip as much as we enjoy our mornings.
At Magna
Year 5 have thoroughly enjoyed their trip to Magna. We spent the morning exploring the different areas; everyone has a different favourite. We looked at how heat is used to generate electricity and watched a blacksmith work in the forge. We all held on dearly in the wind tunnel and explored the different activities including sending rings of smoke into the air. After lunch, we had a time slot in the playground and worked as a team to use some of the apparatus. In the special classrooms, we used playdough, bicarbonate of soda and vinegar to erupt mini volcanoes; we placed coloured lava where the liquid spilled and built it up over a number of eruptions. Finally, we analysed a number of different rocks by testing their properties.
As Volcanologists...
We have looked at how our planet is structured. Using playdough, we have created each layer and discussed how the planet's crust contributes to volcanoes and their eruptions.
As Scientists...
Our classroom has been filled with exciting activities: we have been exploring and researching properties of different materials. We used wires, crocodile clips, bulbs and batteries to test a variety of materials and find out which materials are conductors and which ones are insulators. On another table, we had a property description challenge where we had to organise properties into solids, liquids and gases and on another table, we explored a selection of non fiction books to make additional and more detailed notes. On our final table, we carried out an investigation to discover which materials were most absorbent.
As Egyptologists...
We have had a fantastic time at The Yorkshire Museum. We started the day with an explorer and handled artefacts that were over 3000 years old. We discussed what they represented and what they were used for: one was even found on top of an ancient mummy! Following the artefacts there were 5 different activities: we played an ancient board game; decoded an ancient clue in hieroglyphics; wrapped our own mini mummies in bandages and amulets; created our own artefacts with clay and finally started the embalming process of an ancient (and pretend thankfully!) pharaoh. Needless to say, on our return to school, we had such a long list of things we had learnt.
Bonjour!
Spending time at Crofton Academy has felt like a special treat. We met our French teacher: Madame Wild and had lots of fun. We learnt lots of French vocabulary and built up an entire conversation to have with our peers all while having a great time and playing lots of different games. We all were able to have a conversation in French and wrote a postcard based on our experience. Despite the games and fun we had, most of the class would agree ordering our breakfast and tasting different French food was the best part.
As Space Explorers...
We have been looking at the possibilities of future space travel and how we could live on the moon. Having found information in our Bug Books about the Eden Project and how this can lead to developments in space travel, we have made our own biodomes to monitor the increase heat and improvement in plant growth.
As Engineers...
We have faced a very difficult DT challenge this half term: building our own ducking stool with moving mechanisms. Each group was given the same amount of resources and had to develop their own designs. During class reflection, we all realised that designing moving mechanisms were much more challenging than we first thought! With some guidance, we used our problem solving skills to develop our ideas and the results were fantastic. We are all really proud of our ducking stools. Despite our enthusiasm for our learning, we had to halt our learning temporarily while we discussed the purpose of the ducking stools. Needless to say, the girls were not impressed by this part of history and we all decided we are pleased it isn't used anymore.
Midsummer Night's Dream Sonnet
We have enjoyed reading Midsummer Night's Dream and have been developing our understanding further by looking at excerpts from Shakespeare's version. As we have many poetry fans in Year 5, we have written our own sonnets with the same rhyming scheme and 14 lines then used the best parts to create a class version. We hope you enjoy our performance of it.
Tudor House Maths
After our exploration of Temple Newsam, we have looked more closely at the house during our Maths lessons. We have been working out the perimeter of all the different rooms by deducing missing lengths and we have taken on a super measuring challenge involving a marked house on our playground. Team work was essential to complete this timed challenge as well as accurate measuring.
Temple Newsam
What a super day of Arts and History!
We had a great time at Temple Newsam; some of us now even want to live there! During the morning, we organised a time line about the house and learnt all about the importance of portraits during Tudor times+. A member of our class posed in full Tudor clothing for us to sketch and we continued to work in groups on huge portraits to take back to class. After lunch, we broke into two teams. We had a full tour of the building and participated in quiz that required us to find clues in the environment while another group dressed up in Tudor clothes. Once dressed, we took to the hall to learn a Tudor dance.
As Scientists...
Year 5 have started Science by designing an experiment to find out which biscuit is best for dunking. We had lots of fun while learning how to keep our tests fair, why this is important and how we can write about our learning experience in a scientific way. We may have enjoyed a few biscuits along the way too!