A very warm welcome!
This web page is the place where we will keep you updated on our school experience, learning and other exciting developments.
At Shay Lane Primary School, our Foundation Stage Unit is made up of Nursery and Reception Class.
Our Early Years Vision is to:
Nurture
Inspire
Challenge
Excite
The Foundation Stage is important in its own right; the curriculum for the Early Years Foundation Stage is designed to meet the diverse needs of all children, enabling most to achieve the Early Learning Goals and, where appropriate, go beyond. Children aged three to five constantly encounter new experiences and seek to understand them, extending their skills, developing confidence and building on what they already know. Children deepen their understanding through playing, talking, observing, planning, questioning, experimenting, testing, repeating, reflecting, and responding to adults and to each other. Structured and well-planned play, both indoors and outdoors, is the key to learning with enjoyment and challenge. At Shay Lane we strive to provide the best possible start to your child's school life.
The Foundation Stage Curriculum is arranged in seven areas of learning:
Three prime areas
Personal social and emotional development
Communication and language
Physical Development
Four specific areas
Literacy
Mathematics
Understanding the world
Expressive art and design
We also teach phonics using the Letters and Sounds phases and the Read, Write, Inc scheme by Ruth Miskin.
We're Going on a Bear Hunt
Nursery Team have been using words from the story to describe the bear:
One shiny wet nose!
Two big furry ears!
Two big goggly eyes!
We then used our feet to paint our very own bear!
Bear Paw Biscuits
As part of our topic, Brilliant Bears we created our very own bear paws using biscuits. We used tools to spread the icing and carefully counted the chocolate chips to create the paw prints. We really enjoyed it, especially eating them!
Happy New Year!
What a wonderful start to the new year, Nursery Team are having! We are very excited to welcome our new starters and have been getting stuck into lots of challenges both inside and outside the classroom.
Norman the Slug who Saved Christmas!
Nursery Team enjoyed our story about Norman so much that we ordered the Christmas version online. It arrived at school and we listened carefully to the story and joined in with the words that we know. We have even created our own Norman bauble to take home and hang on our Christmas tree!
A Magical Christmas Journey
Nursery team worked extremely hard to learn all the songs for our Nativity, A Magical Christmas Journey. We really enjoyed working with Reception and KS1 to put on a great show. We especially liked performing it to our grown-ups!
Glorious stores and Riveting Reads
Nursery team have had a super day sharing stories on our special reading day. Did you know that some books have more than one story in, some books make noises and some books are shaped like a bag?!
A very special visitor
Today, Reverend Louise came in to meet the Foundation Stage children. Our topic is Special Days and we have been talking about different times that are special and how we might celebrate them. Reverend Louise came in to teach us all about Christenings. She showed us how a Christening works and the special oil she uses. She showed us how to bless the Holy Water and pour it on the person's head with a special shell. Reverend Louise showed us the special robes that she wears and the christening register (it has all the people's names in that have been christened at Crofton Church). We learned a lot from Reverend Louise and even got a special sticker for listening so well, thank you.
Children in Need 2019
Nursery Team have had an exciting day raising money for Children in Need. We all came to school wearing spotty outfits and learned about why we are raising money for other children. We enjoyed different Pudsey Bear activities and showing off our spots!
Odd Socks Day 2019
As part of Anti-bullying week, Nursery Team have really enjoyed celebrating Odd Socks Day. We all came to school wearing odd socks and talked about what makes us special. We read the story, Simon Sock and talked about what we can do to be a good friend. After that, we created our very own odd sock just like in the story!
Shay Lake
Recently, we have had lots of discussions about the weather and what clothes are suitable to wear in the winter. As you know, we've had rather a lot of rainfall in the last couple of weeks (most of which still seems to be in our outside area!) We had a safety talk about how to take care around water and what clothes and shoes it would be best to wear in the wet weather. It turns out that even with wellies on, we still manged to get our socks wet!
Remembrance Day
Nursery Team have really enjoyed learning all about the meaning of Remembrance Day. We followed instructions to bake some special Poppy Day Buns. After that, we decorated them in a red poppy – to represent the people that were hurt or died in the war or purple – to represent the animals that were hurt or died in the war.
BANG, POP, WHIZZ!
We started by watching some clips about fireworks and looking closely at some pictures. We discussed the shapes and colours that we saw and then created our own.
Foundation Stage's Poppy Wreath
Nursery and Reception have been working hard to create a poppy wreath for Remembrance Day. We have handed it over to Miss Butterfield who is going to display it outside of the school for the whole community to see.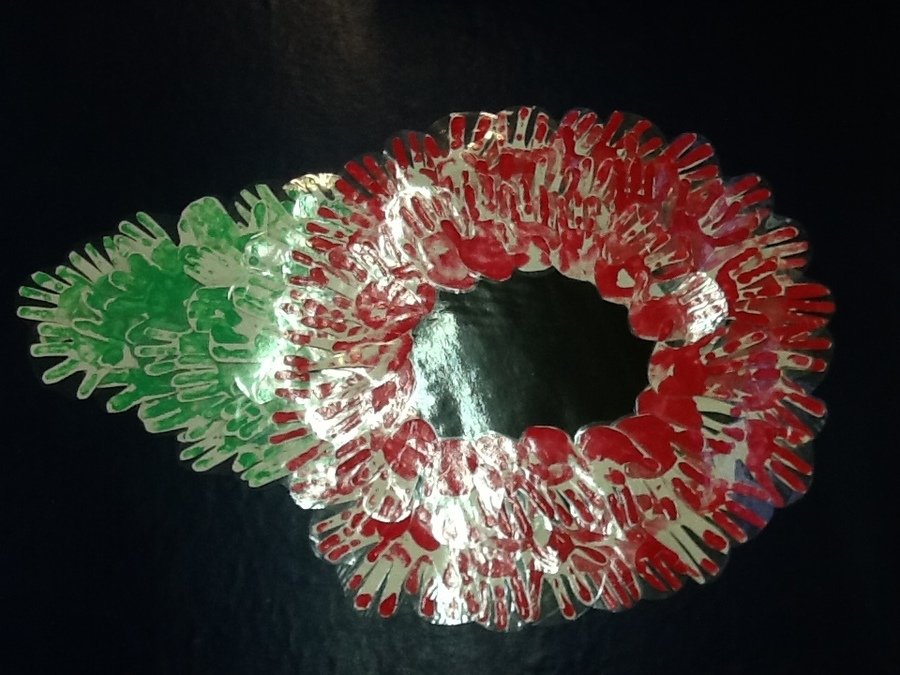 A Vegetable Challenge
Yesterday, Nursery Team received a very special challenge from Supertato. We had to taste some of his vegetable friends and then show him which our favourite was, using pictures. We created a class pictogram and talked about which was Nursery's most and least favourite vegetables. The onions didn't go down very well!
Supertato Paintings
Today we have really enjoyed painting our very own Supertato. As we painted, we used words to describe him and talked about the things that he did in the story. Some of our ideas were: he is a goodie; he is super strong and super speedy; he saves all the vegetables and wears a red cape.
Supertato to the Rescue!
Nursery Team enjoyed reading Norman the Slug with the Silly Shell so much that we decided to read another book by the same author, Sue Hendra. We started by listening carefully and joining in with the story. We then went outside and pretended we were in the story, using words and phrases from the book.
Harvest Time
In preparation for the Harvest Festival, we have had a wonderful time learning all about Harvest. We have been using our careful counting skills to count harvest fruit and vegetables. We have been reading stories and singing songs (Our favourite is Big Red Combine Harvester!) and have created some beautiful observational drawings of harvest food.
Norman's Doughnut Decorations
Nursery Team have been working extremely hard on their book, Norman the Slug with the Silly Shell. We have been creating repeating patterns in paint and sequencing the story using pictures. As a special treat we decided to decorate doughnuts, just like Norman's shell. They were delicious!
Slithery, Slippery Slime!
We are enjoying our book, Norman the Slug with the Silly Shell ssooooo much that we decided to make slime! In the story, Norman uses slime to escape from the claws of a bird. We followed instructions carefully to create our own slime. It was a bit messy but we loved it!
Some slippery, slimy visitors!
Nursery Team have be reading Norman The Slug With The Silly Shell by Sue Hendra. We have had a great time drawing and painting snails and using words from the story. As a special treat, Mrs Bury brought in her African Snails from home. She told us that they like to eat cucumber, courgette and pepper but do not like watermelon! Mrs bury even let us touch them gently. We used words like slimy, slow and slithery to describe them.
A super start to Nursery
Wow! What a wonderful first couple of weeks we are having! The children are settling in really well and getting used to the new rules and routines. We are having so much fun in the different areas of provision and are really enjoying our singing and story times. Well done, Nursery Team. We are super proud of you x