A very warm welcome!
This web page is the place where we will keep you updated on our school experience, learning and other exciting developments.
At Shay Lane Primary School, our Foundation Stage Unit is made up of Nursery and Reception Class.
Our Early Years Vision is to:
Nurture
Inspire
Challenge
Excite
The Foundation Stage is important in its own right; the curriculum for the Early Years Foundation Stage is designed to meet the diverse needs of all children, enabling most to achieve the Early Learning Goals and, where appropriate, go beyond. Children aged three to five constantly encounter new experiences and seek to understand them, extending their skills, developing confidence and building on what they already know. Children deepen their understanding through playing, talking, observing, planning, questioning, experimenting, testing, repeating, reflecting, and responding to adults and to each other. Structured and well-planned play, both indoors and outdoors, is the key to learning with enjoyment and challenge. At Shay Lane we strive to provide the best possible start to your child's school life.
The Foundation Stage Curriculum is arranged in seven areas of learning:
Three prime areas
Personal social and emotional development
Communication and language
Physical Development
Four specific areas
Literacy
Mathematics
Understanding the world
Expressive art and design
We also teach phonics using the Letters and Sounds phases and the Read, Write, Inc scheme by Ruth Miskin.
Remembrance Day
Nursery Team have really enjoyed learning all about the meaning of Remembrance Day. We followed instructions to bake some special Poppy Day Buns. After that, we decorated them in a red poppy – to represent the people that were hurt or died in the war or purple – to represent the animals that were hurt or died in the war.
BANG, POP, WHIZZ!
We started by watching some clips about fireworks and looking closely at some pictures. We discussed the shapes and colours that we saw and then created our own.
Foundation Stage's Poppy Wreath
Nursery and Reception have been working hard to create a poppy wreath for Remembrance Day. We have handed it over to Miss Butterfield who is going to display it outside of the school for the whole community to see.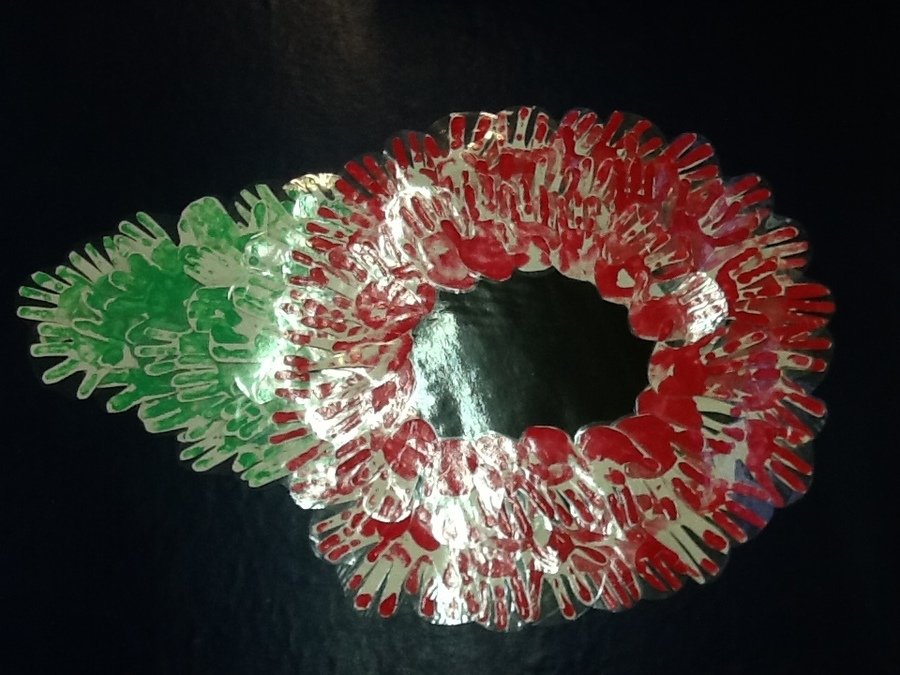 A Vegetable Challenge
Yesterday, Nursery Team received a very special challenge from Supertato. We had to taste some of his vegetable friends and then show him which our favourite was, using pictures. We created a class pictogram and talked about which was Nursery's most and least favourite vegetables. The onions didn't go down very well!
Supertato Paintings
Today we have really enjoyed painting our very own Supertato. As we painted, we used words to describe him and talked about the things that he did in the story. Some of our ideas were: he is a goodie; he is super strong and super speedy; he saves all the vegetables and wears a red cape.
Supertato to the Rescue!
Nursery Team enjoyed reading Norman the Slug with the Silly Shell so much that we decided to read another book by the same author, Sue Hendra. We started by listening carefully and joining in with the story. We then went outside and pretended we were in the story, using words and phrases from the book.
Harvest Time
In preparation for the Harvest Festival, we have had a wonderful time learning all about Harvest. We have been using our careful counting skills to count harvest fruit and vegetables. We have been reading stories and singing songs (Our favourite is Big Red Combine Harvester!) and have created some beautiful observational drawings of harvest food.
Norman's Doughnut Decorations
Nursery Team have been working extremely hard on their book, Norman the Slug with the Silly Shell. We have been creating repeating patterns in paint and sequencing the story using pictures. As a special treat we decided to decorate doughnuts, just like Norman's shell. They were delicious!
Slithery, Slippery Slime!
We are enjoying our book, Norman the Slug with the Silly Shell ssooooo much that we decided to make slime! In the story, Norman uses slime to escape from the claws of a bird. We followed instructions carefully to create our own slime. It was a bit messy but we loved it!
Some slippery, slimy visitors!
Nursery Team have be reading Norman The Slug With The Silly Shell by Sue Hendra. We have had a great time drawing and painting snails and using words from the story. As a special treat, Mrs Bury brought in her African Snails from home. She told us that they like to eat cucumber, courgette and pepper but do not like watermelon! Mrs bury even let us touch them gently. We used words like slimy, slow and slithery to describe them.
A super start to Nursery
Wow! What a wonderful first couple of weeks we are having! The children are settling in really well and getting used to the new rules and routines. We are having so much fun in the different areas of provision and are really enjoying our singing and story times. Well done, Nursery Team. We are super proud of you x
September 2019
Welcome to a new school year. We are really looking forward to getting to know our new starters and welcoming back our older nursery children.
Our web page is a great place to see what your children have been up to during their very busy days at school. Please find below some of the wonderful activities that we enjoyed in the last academic year and watch this space for more exciting developments!
We love our ducklings
We took them swimming! They splashed us as they learned to swim. It was so much fun!
A Duckling Update
All 6 of our eggs have hatched! Over last week, we have watched as the 6 ducklings hatched from their eggs. It was unbelievably exiting! We have listened carefully to their little quacks and watched as they have got stronger. Today, we decided that they were strong enough to come out of the cage. We sat in a circle and watched as the ducklings ran and played in our circle. They kept coming up to us and giving us a gentle peck. It really made us smile.
A visit from Elsa the Chocolate Labrador
What an exciting morning Nursery Team have had! Mrs Allen (Mrs Norbury's mum) brought in the family dog, Elsa. Mrs Allen told us all about what she has to do to care for Elsa. She showed us how to brush Elsa's teeth using a special Denta Stick; brush her fur with a special dog brush and eat her breakfast out a special bowl (she even showed us the special poo bags!).
Mrs Allen then showed us some tricks that Elsa could do. She could sit, lay down, stay and catch a ball. We then got into a circle and all had a turn at stroking Elsa. We were very quiet and gentle so we didn't scare her. Elsa really enjoyed this and kept smiling and wagging her tail! Thank you Mrs Allen for a fantastic morning xx
Rain, Rain Go Away!
Where's the summer?!
Even after all our singing about the sunshine, it's still raining! So Nursery Team decided to go on a Rain Walk. We discussed what we could see and how it felt. We also described the changes that the rain had made to our outside area. There were lots of puddles and mud but the rain had really helped the plants to grow.
The Very Hungry Caterpillar
Nursery Team have had a super time working on our story, The Very Hungry Caterpillar. We started with some maths work and made our very own caterpillars using paint and careful counting. As an extra challenge, we even found one more and one less. After that we created pictures of what the caterpillar ate. We made meaningful marks and wrote some key words. We have also enjoyed learning about the life-cycle of a butterfly and singing songs all about it. But one of our favourite things that we did was tasting the food that the caterpillar ate (don't worry, we didn't eat the nice, green leaf!)
A visit from Luna the African Pygmy Hedgehog
This morning, Nursery have been extremely lucky to meet a real hedgehog! Luna is not like the hedgehogs that we might see in our gardens, she is white and light brown. Luna is a pet and can only live indoors. She sleeps during the day and is awake at night. Luna is 9 months old and likes to eat worms! Although Luna has spikes but they were not sharp. She has a very soft tummy and a big nose! We really enjoyed learning all about Luna and delicately touching her back. Thank you, Nic for bringing her in to meet us.