Hello everyone!
There are many exciting opportunities and experiences in store this year and you can find out what we have been doing on this page. Here is some useful information and below we shall share updates and photos of our learning journey this year.
Grammar tasks will be handed in and marked every Monday.
Spelling tests will be completed on Mondays. This may change occasionally in order to ensure the children have completed the series of lessons for a spelling list and may be adjusted to meet their learning needs.
Reading homework will include your child collecting 3 signatures after reading each week. Reading journals will be checked every Friday. Before children change their book, they will need to complete the associated comprehension that is available on their on-line account. Click here to access: https://www.activelearnprimary.co.uk/login?c=0
Two pages of the CPG Maths revision will be marked every Tuesday and an optional Mathletics task will be set each week. I encourage all of our children to spend time using our online resources that the school invests in order to maximise learning opportunities. To access Mathletics, please click here: https://login.mathletics.com/
To offer further learning opportunities, children have access to Times Tables Rockstars and PurpleMash.
As Mathematicians...
It's official! Miss Stones can safely retire early having found some fantastic replacements! Pupils in Year 6 took to our working walls recently and shared their learning with their peers. Miss B and Mr N confidently translated and reflected shapes on the grid and explained what we need to do to perform this successfully. Other learners shared responses during class discussion and included key mathematical language. Well done super stars!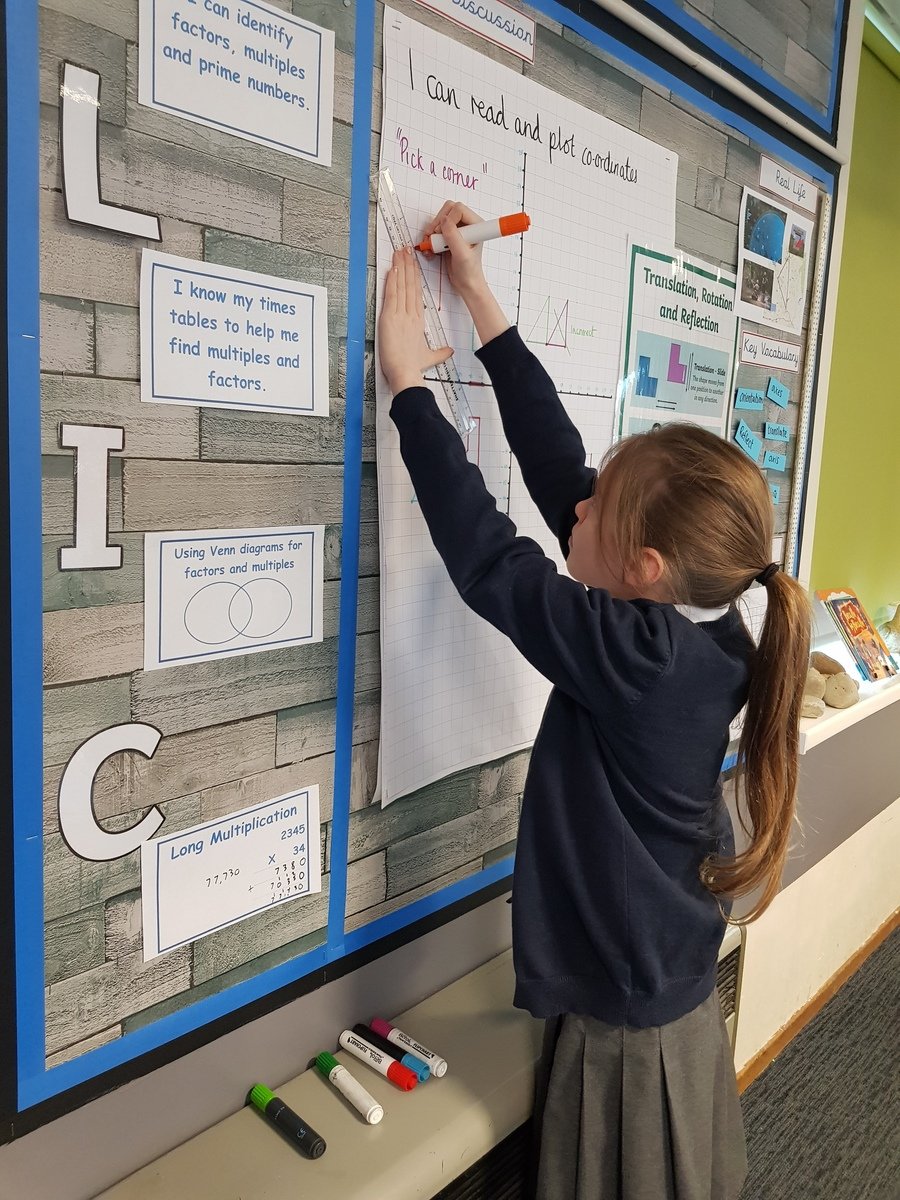 As authors...
We have been having a great time with our writing recently. Our classroom is filled with positive attitudes and pride in what we do. We have been reading The Sign of the Beaver and exploring the different characters and their feelings. We all worked together to create a series of freeze frames to develop a part of the story we didn't know: why did Ben suddenly leave the nearest town and head for the wilderness? Needless to say, year 6 came up with some very dramatic freeze frames! We are also writing a diary entry for Matt and are really excited to have them displayed in KS2. Please see above.
Remembering our fallen...
We have put some of our art skills to use to create an image that represents our emotions. We have used washes of colour and then cut out silhouettes that provides a symbol of Remembrance Sunday.
At Bradford Science and Media Museum...
We have continued our learning journey to Bradford Science and Media Museum. There we answered many questions about light during our workshops as well as extending our understanding by contributing towards challenges. We used endoscopes to explore inside hidden chambers of pyramids and even used light to look at the bacteria within saliva. Delightful! After our workshop, we explored the many activities in the Wonderlab and thankfully we all made it out of the Hall of Mirrors. Despite enjoying our time extending our knowledge about light, we also discovered an arcade, allowing us to explore the advancements made in technology and even played some games our grandparents would have enjoyed.
As Scientists...
We have started studying light by learning how we see things and how light travels. As part of our lessons, we have put our creative skills to the test by building our own periscopes and looking at how we can use reflection to develop innovative ideas. This includes how reflection is used when designing various vehicles.
Reading for Pleasure in Year 6
This year, children in year 6 will not only spend time developing their readings skills and comprehension, but also reading for pleasure. There are many books available for our children including a young adult section specifically catering for our mature fluent readers. Within our timetable, children will take some time out of class and enjoy our library environment as well as having relaxing quiet reading moments in our Harry Potter themed reading corner in the classroom.