A BIG thank you to everyone who has taken the time to send in their wonderful work!!!
Summer Catch-up Timetable
With so much school time being missed this year, I have put together a few tasks for the summer holidays, to help children to be best prepared for the return to school in September.
For each week, I have prepared an English task, a maths task and a topic task:
Year 4 School Activity Passport
Below is a copy of our Year 4 School Activity Passport. The activities listed are ones which have been chosen to enrich our school curriculum and give children experiences that we believe will make their learning journeys more exciting and memorable. I will put suggestions on our weekly timetable, but feel free to choose any activity from the list to try at home. Let me know what you have been up to!
Daily Tasks
We have created 'Daily Task' sheets to aid with home learning. They include a reading, a grammar, a spelling, and a maths task for each day of the week. Please find next week's tasks below:
Supporting Home Learning Routines
Below is a document to support parents with home learning routines.
Meet the rest of the class in TTRockstars 'Arena' each day at 10.30 to challenge your classmates. I will also setup a weekly competition to see who will be our weekly champion!
Please read every day and update your reading record.
Access www.timestables.co.uk/speed-test/ to challenge yourself and practise any tables you are not 100% confident with.
If you have any work you would like to show us, please email it to headteacher@shaylane.wakefield.sch.uk
Year 4 Home Learning Timetable W/C Monday 6th July

Monday

Just Dance:

https://www.youtube.com/watch?v=gCzgc_RelBA

Can you message me on Dojo with suggestions of which Just Dance songs you would like to do?

Daily task sheet

Bug club reading (online)

Read to an adult

Lesson 1: This week is the last week of the school year, and what a strange one it has been. I would like you to finish off by writing your review of Year 4. I'd like you to tell the story of the year, including:

your favourite memories
what you feel you have achieved
what new things you have learned
anything funny that has happened
your favourite topic or trip from Year 4
your feelings about lockdown
what your ambitions for next year are

Start by planning your text. It will be an information text with a heading (eg: My Year 4) and subheadings for each section.

Make a bullet point list of the sections you would like to include. Think carefully about what you will be able to write about in an entertaining way.

(Don't forget my terribly difficult maths challenge!)

I'd like you to complete a few pieces of artwork to go with your 'Year 4 Reviews'. It would be nice to have 2 or 3 separate pieces to commemorate your year of learning.

Choose three special moments from Year 4 to inspire your art. Work on your first idea today. This year, we have used paints, chalk, pencils and collage to create pictures. We have also looked at creating texture, shadow, and have explored abstract art (remember, things don't always have to look real!).

Can you use what you have learned in Year 4 to create you final pieces?

Tuesday

Just Dance:

Daily task sheet

Mathletics

Lesson 2: Begin to write your review. You may need to write an introductory paragraph. Can you remember how you felt at the start of the year? What was your first day like? Were you nervous, excited?

Why not try a different artistic style today for your second memory. Maybe use pieces of paper, cardboard or newspaper to make a collage. You could even use recyclable items, such as cereal boxes or magazines from around the home, to create a 2D scene.

Wednesday

Joe Wicks

Just Dance:

Daily task sheet

TT Rockstars

Lesson 3: Continue to write sections, based on your bullet point list. Remember to make your writing entertaining. I want you to be able to look back at this and enjoy it in years to come, that way you will be able to see how much you have learned and grown as a person.

Create your final piece of artwork. This could be a painting, or a chalk drawing, or even something you have designed on a computer or tablet. Remember to represent a memory from Year 4.

If you have the resources, you could even create a 3D memento such as a model or sculpture, or even a 3D scene of the classroom made from lego!

Thursday

Just Dance:

https://www.youtube.com/results?search_query=final+countdown+just+dance

Daily task sheet

Bug club reading (online)

Read to an adult

Lesson 4: You should be getting close to finishing now. Once you do finish, don't forget to read it all back, and edit and improve your work. Can you add any extra Year 4 writing features to up-level your work?

Choose a task from our Year 4 School Activity Passport.

Let me know which activities you have done so I can tick them off on your passport. You can send me a message through Dojo.

Friday

Just Dance:

Daily task sheet

TT Rockstars

Lesson 5: You should now have finished, or be editing your review. Maybe now you could think about presenting it in a booklet or leaflet. Copy your work up and keep it somewhere safe so you can read it again in a year, or two.

Maybe you could make a time capsule with other objects or mementos of your year. If you have outdoor space, why not bury it so you can dig it up again in years to come?

That's it! This year has been the strangest year I have ever experienced, and I'm sure yours too. I'm sad that I didn't get to spend the whole year with you all, but I'm happy to have seen you all grow and learn, even in the shorter-than-usual time we had together.

You are a great class, with fantastic potential, and I know your teacher in Year 5 will have a wonderful time, helping you to continue to learn and develop.

Have a great summer and I'll see you in September!

Mr Elvin
Mr Elvin's Terribly Difficult Maths Challenge!!!
Have a go and send me your answers on Class Dojo...
Jethro's diagram of the digestive system could be straight out of a medical textbook!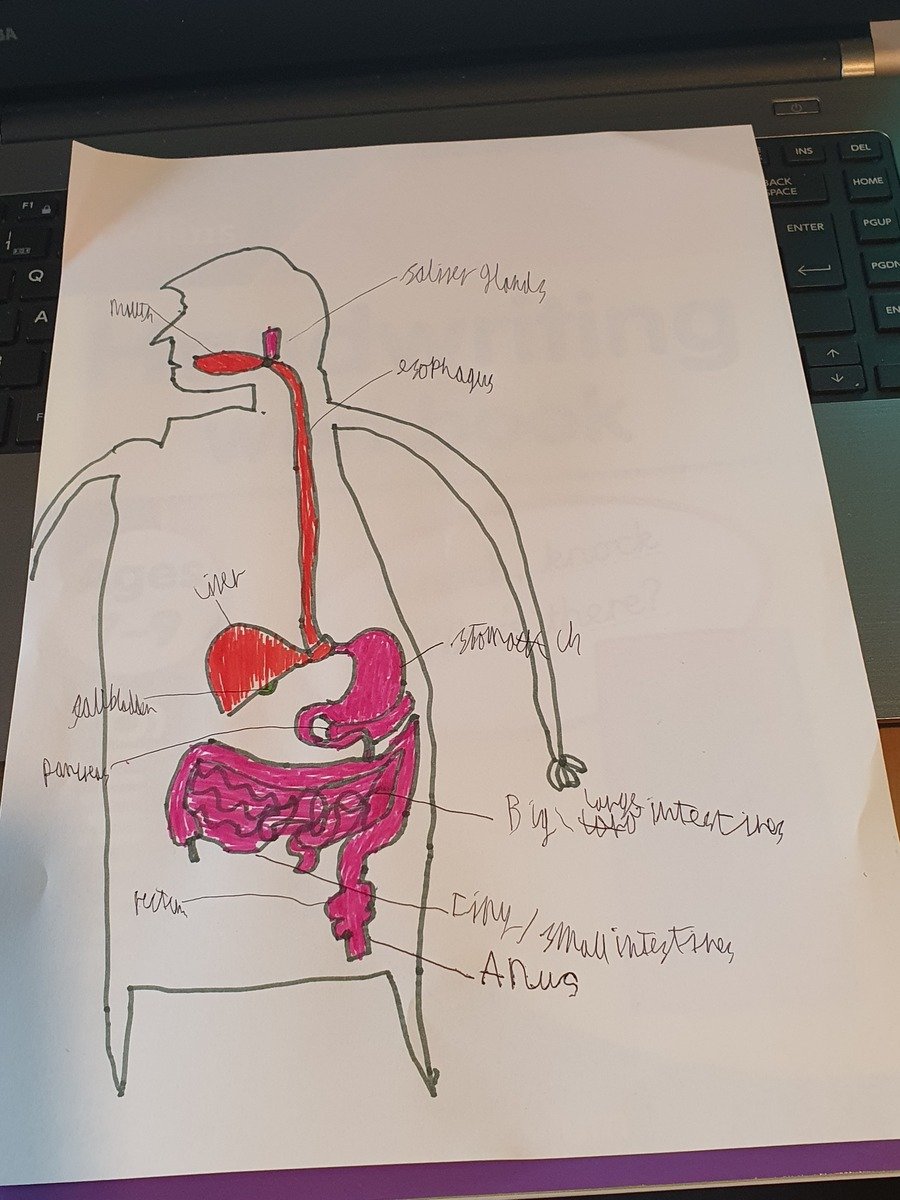 Oscar has researched animal habitats very carefully, and has made this poster to highlight the plight of the polar bear...
I hope you are all finding time to be creative! Oliver has created this lovely Easter bonnet.
Brilliant Writing!!!
Thank you to all the children who have been busy at home. I have already been sent some lovely pieces of work that I have really enjoyed looking at. Here are a few paragraphs from one of the stories I have been sent. Can you 'magpie' some of the ideas and vocabulary for your own story?
The snow egg
One freezing day in the snowy barbaric archipelago, a lonely Viking boy named Scribblur was
walking back home over a mountain from a long days work of fishing, when he noticed
something. Along the field of white glistening snow there was a thing that caught his eye, an
egg. A blue purple speckled egg. It was clearly not meant to be there, because it stuck out like
a sore thumb! He had no choice so he heaved the huge egg over his shoulders and carried on
home . So no one would see it, Scribbler emptied all the fish out of the crate he was holding and
stuffed the egg in instead. His legs aching beneath the huge crate Scribblur stumbled home to
his grandfather's cosy cabin near the sea to ask him what he'd found.
The hatching portal

Scribblur stared at the egg that was now beginning to crack. For a split second Scribblur wished
he'd left the egg alone until... BOOOOOOOOOOOOOOM the egg exploded in a flurry of purple
sparks and a portal appeared that looked like lightning itself. Suddenly, Scribblur and the baby
dragon were sucked into the lightning like portal. A strange rushing sensation came over
Scribblur but the dragon seemed to not notice .
A scene of beautiful cliffs and calm waters met Scribblur's eyes, then everything went
completely black the last thing he heard were multiple blood- curdling dragon growls...
Oscar (Year 4)
Your name in Viking Runes... Thank you Jethro and Krew.
It's great to see children putting in the effort to stay 'maths fit'!